FANTRA ZINE (publication) over the years featured interviews, articles and bios on Jimi Hendrix, Bad Brains, Lee "Scratch" Perry, Skadanks, Merciless, Damian Marley, Tiger, Sleepy Wonder, Harley Flanagan (CroMags), Aggrolites, HR, Gogo Muzik, Reggae Muzik, Punk, Roguish Armament, Scarface, Soul 4 Real, Kool Herc, CDs and live gigs reviews, etc. Have Ghetto Muzik TV episodes with Lucky Dube', Ziggy and Damian Marley, Supercat and a few more we will eventually transcribe. And many thanks to Uptown Shem Herman who contributed contents in the early years. See you around NYC bruh. You kno -- Fantra Zine is about the truth. And the rustic rag hit like a sledge hammer! An' in the meantime -- just to be positive... It is wack to have traitors (Poser #1's) in ur camp. They begged to come aboard and once they get into the circle it's all smiles and even prayers circles in ur face. But behind ur back it's all a toxic endeavor. (Hey YO - D.I.A refused to pray with the devil niggahz. WTF!) It is wack how Poser #1's continuously pull a series of Colin Powells (disloyalty to his party) just to pose next to HR and and other celebs to post shit on Myspace like they knew them for life. Jamekee/D.I.A brought a lot of you into the circle: Blue Meadows, Michael Crevier, Duffy and dudes in El Paso, Texas (names ain't worth mentioning)... Can't look D.I.A in the eyes man. The muzik industry chews up Poser #1's and peeps who bite real peeps creations and ideas. Y'all fags sicc in the heads. But seriously, what do you think will happen if and when D.I.A tells HR (Bad Brains) to step away (from any situation)? Dude will do so in a "New York" minute!
_____________________



STREET RAGZ Clothing
_____________________



D.I.A RECORDS Classic Releases

"OUT OF BOUNDS" by HR of Bad Brains.

All Media Guide Review of "Out Of Bounds".
"OUT OF BOUNDS" CD available on ITUNES, AMAZON MP3, EMUSIC, GOOGLE PLAY, RHOPSODY, SPOTIFY

as well as via PAYPAL orders: Cost -- $49.99. FREE Shipping & Handling in U.S.A. Overseas add an additional $15. USD for shipping.):
________________
"HR IN DUBB" (EP) by HR (Human Rights) of Bad Brains.


"HR IN DUB" CD available on ITUNES, AMAZON MP3. EMUSIC, GOOGLE PLAY and SPOTIFY. "HR IN DUBB" will be live on RHOPSODY soon.

________________

The immortal STALAG 20, 21 & 22 -- THE NEXT GENERATION featuring Elephant Man, Mr. Vegas, Junior Demus, Ce'Cele, Merciless, Danny English, Egg 'n' Bread, Hawkeye, Chico and more... (Reggae-Dancehall super artists). Project was mixed by Cordel "Scatta" Burrell.


All Media Guide Review of "Stalag 20, 21 & 22 - The Next Generation". Available on AMAZON MP3, iTunes, GOOGLE PLAY, RHAPSODY and SPOTIFY:


and
CD orders via PayPal: Cost -- $49.99. FREE Shipping & Handling in U.S.A. Overseas add an additional $15. USD for shipping): ________________




Trk: Row
________________

INVERTED PARADOX
(Various Artists)


Inverted Paradox (Various Artists) album is available on:

as well as via PAYPAL orders: Cost -- 49.99. FREE Shipping & Handling in U.S.A. Overseas add an additional $15. USD for shipping.):
Inverted Paradox is a 14 track album featuring HR (of Bad Brains), songstress/model/actress Jez Blak (alter ego: Earth Godessa), the salty, magruff gravel-voiced Junior Demus, Snuupi (great writer courtesy of Kesta Records), Li-On (NYC underground hiphop mic stalker), Roguish Armament (alternative hardcore hiphop pioneers), the great Bobby Culture, Merciless (one of dancehall's best) and Long Island's punk krew Bumfounded.

________________

ROGUISH ARMAMENT


Roguish Armament Alternative Hiphop.

CD orders via PayPal: Cost -- $24.99. FREE Shipping & Handling in U.S.A. Overseas add an additional $15. USD for shipping):
EARLY GRAVES
(San Francisco - Cali Based Punk/Grindcore/Metal On The Grind.)

This is a view of Early Graves via their Myspace page...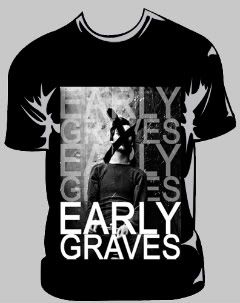 EARLY GRAVES is a San Francisco/Bay Area, California krew with shovel loads of sicc energy that have maggots stirred. From listens on their Myspace.com/EarlyGravessf page Early Graves has the necessary grit, tools and work ethic needed in the formula to rise above the pitted gutters and grimy under-bellies of the hardcore/alternative scenes and muzik biz anywhere. If they continue to pay dues with consistency, over the next two or three years they will be headliners. Unlike a pinched lying redneck ska-punk band from Half Moon Bay - Cali, or a borrowed-concepts-poser #1-brain-rot wannabe Bad Brains band from El Paso, Texas, who plays grindcore metal with a drum machine, drummer Dan Sneddon knocks you upside your head with a raucous series of steady licks and poundings to set the pace for Matt O'Brien's fiery bass which sets the backdrop for Chris Brock and Tyler Jensen intense guitz and ultimately Makh Daniels' belch-screaming ruff sandpaper graveled vocals. Listen up you spineless slimes -- Early Grave ain't no guitar hero shit. Early Grave is showing they are serious contenders (not "poser #1" pretenders) with their muzik and by being road warriors. Tracks and vibes remind one of early CBGB scene. But fuck CBGB and some of the bands out o' dat era. Yesterday... Dead... "Let The Youths In!" Early Graves is now!! and personally I'm digging all tracks heard. 'House Nigger' and 'Ballistics' are favs.




Early Graves check this... Be on the lookout for angry hippie bicyclist cursing at motorists in Eugene, Oregon. And definitely stay out of Sausalito dudes. "$300. Stolen In Sausalito." Shouts to Ironclad Recordings/Metal Blade Records. According to Matt Obrien Early Graves is gearing up for the release of their second full-length album entitled "Goner" -- June 2010. And listen up you tatted and pierced nocturnal fuckers, check EARLY GRAVES on tour. Support the real muzik scene. Send all the trendy drones to Disney.

Early Graves Tour Dates:
April 6, 2010 @ Ryans Saloon w/The Funeral Pyre - Reno, Nevada @ 8:30pm
April 7, 2010 @ Wiskey Dicks w/The Funeral Pyre - Reno, Nevada @ 9:00pm
April 8, 2010 @ Thee Parkside w/Light This City - San Francisco, Cali @ 7:00pm
April 9, 2010 @ Free School Anarchist Collective w Warscroll & Trash Axis - San Diego, Cali @ 8pm
April 10, 2010 @ Chain Reaction w/Light This City - Anahiem, Cali @ 6:30pm
April 11, 2010 @ The Blvd w/Light This City - Hollywood, Cali @ 8pm
April 23, 2010 @ Hemlock Tavern w/He who Cannot Be named, Bomber - San Francisco, Cali @ 9pm
April 30, 2010 @ Your Haus w/UYHS, Pills, This Runs On Blood, Fell Voices - Oakland, Cali @ 8pm.

OK dudes. Say hello to D.I.A's Global Rockers on Haight. If u cross paths with Ronkat Speartman from P-Funk Allstar say watz up!
J. "Barry DIA" Long
Global Rock In Effect!
FANTRA ZINE
"...the rebel zine where 2 negatives = a positive at times..."

________________________________________
________________________________________

PUBLIC SERVICE ANNOUNCEMENT: The muzik biz is fill with slimeballs and posers. Pic to right below is the universal poster of world's "POSER #1" and slimeball.


Location: El Paso aka El Chuco - Texas. Tries to play grindcore metal with a drum machine: GUILTY! Prints cheap knock-off bootleg T's of famous bands: GUILTY! Holds perpetual record for creating fake Myspace pages to try and disparage and smear with lies: GUILTY! Copyrights infringement and intellectual property theft: GUILTY, GUILTY, GUILTY! Creates phony photoshop images including porn: GUILTY! Loves to download well endowed black male porn stars: GUILTY!!! Hangs around El Paso sk8 parks watching little boys and girls: GUILTY! Loves to take sneaky pics on his celly: GUILTY! 35 years old and lives with mom: GUILTY! Grudgefully hates other successful krews and continue to ridicule and mock reggae artists: GUILTY! Only been on one tour courtesy of D.I.A and will neva tour again: GUILTY! Try to book dates and appearance of artist behind management's back: GUILTY! Can't hang a flyer correctly: GUILTY! His government: Larry Overstreet, Jr. aka "POSER #1". What a load of confused half-Japanese shit. Don't give this idiot life. Trim the dreads of this 2-bit hustler of dried/dirty Mexican drop leaves and send this wannabe emo rockstar packin'like a "Goner" from El Chuco. Deserves toes of steal to ribs: MOST LIKELY!
GLOBAL ROCK In FULL EFFECT!!

Once any concept is put into incubation, it is kool to see the hatch-ling develops wings and fly. Regarding "Global Rock" -- it is great satisfaction to see the muzik industry, musicians and fans tapping into and adopting the once fledgling genre and vibe. Still ways to go but Global Rock came a long way. Delusions of grandeur -- absolutely not. The Global Rock Revolution is in full effect!!! With respect to foundation genres from beyond Rag Time to Blues, Rock -n- Roll to Rock and sub-genres including Punk, Hardcore, etc.,; mix in Rhythm n Blues, Funk & Hiphop, Pocomania and Mento, Mariachi, Ska, Rocksteady, Reggae, Reggaeton and other worldly sounds -- and as the Blue Marble shrinks into one small hood, it is evidently clear a new marquee genre is apparent. Fusion-ed sounds influenced by multiple sound elements and cultures is on the verge of dominating muzik more so than ever... From the totally obscured underground experimental sounds to commercially charged pop, "Global Rock" is a good (if not the greater) portion of today's muzik.



Prior the "Global Rock" tag, new fusion-ed sounds had no identity or true classification. Classification of muzik is very important for identity and ultimately marketing to consumers. There are a few break-through exceptions like Millie Small's 'My Boy Lollipop' (Ska-Rock N Roll), Paul Simon's 'Mother and Child Reunion' (Reggae-Rock), Johnny Nash's 'I Can See Clearly', Run DMC & Aerosmith's ' Walk This Way' (Hiphop-Rock), Shabba Rank's dancehall-hiphop hits, Chuck Brown's GoGo break through 'Bustin Loose' (funk-swing and so on...), Toots & The Maytals' 'Israelites', etc. Oh yea -- can't forget Gong (Bob Marley) who envisioned the ultimate future of muzik and chronicled the vision with 'Punky Reggae Party' in the early '70s. I personally think that is what Gong meant when he mentioned "...last great muzik..." in an interview. How profound is 'Punky Reggae Party' track? But in general, consumers cannot purchase a product if they do not know what they are looking for, or where to find that product. For instance, Bad Brains plays a hardcore sound spawned from funk, jazz, dub reggae and **punk for 25 years. To date some folks do not know where to classify and file Bad Brains' muzik. Another example is the Beastie Boys. If one walks into a surviving Virgin Mega Store for a Beastie Boys' CD, that person would probably beeline to the alternative rock section first. But gees golly boys and girls, Beastie Boys' products are filed under Hiphop. Muzik must have an identity or it will just floats in suspension.

"Global Rock" is the new world genre in several variations. Just look at Myspace's 3-4 million musicians old and young. They are playing a hybrid sound consisting of multiple genres intertwined with cultures and sub-cultures: Ska-Punk-Reggae, Funk-Rock-Alt.-Hiphop, Metal-Trash-Dub-Hardcore, Dancehall-Hiphop, Rocking-Espanol... An Indonesian Punk Rock krew is going to be influenced by the Sex Pistols but they are going to factor in their own culture and lifestyle. Dude, muzik cannot be pushed beyond Global Rock on this 3rd Rock from the sun. Global Rock is the ultimate genre with the internet virtually reducing the Globe to a pebble. From Cali to North Carolina and parts unknown, Global Rock is watz happening. The legendary dee-jay toaster Dennis Alcapone would say "it goes like that." Soooo... forget about all Conspiracy Theories and Global-Rock on peeps. It is universally for everyone. Now hear this... G-G-G-G Global Rock is the extended lifeline for a few flat-lined genres -- (another story).

Now Global Rock Showcase events in any format is the new Punky Reggae Ska Dub Metallic Funky Hiphop party. Hehehehe. Currently Global Rock Showcase-type events are every where from the underground to mainstream. I mean Snoop is touring with Slightly Stoopid. This is a long way from the "isolation periods" when concerts goers used to attend gigs and waited until their bands go on to run up to the stage. Didn't matter who was billed after fans fav band, they would then run away after from the stage after the set. The lines are blurred and today's youths have a smart diverse taste for muzik. They are listening to everything by multi-genre Global Rock bands such as Bad Brains, P.O.D, Slightly Stoopid, Michael Franti & Spearhead, Thievery Corporation and George Clinton... And from a promoters standpoint, why target one audience when they can draw from several. Plus, Global Rock Showcases and similar events bring a diverse audience together under the same roof to co-exists. It is basically the end of the "Iron Curtain" in muzik yo.

Once a Brooklyn Reggae producer attended a Global Rock Showcase in Lower Manhattan on Ludlow, Gotham City. He saw the DIVERSE INTENSIFIED AUDIO mix of metal, punk, ska, alternative rock and roots/dub reggae in effect. It was a very kool soiree with bobo dreadlocks, skinheads, studded spike-haired kids, sk8boarders and NYU college kids hanging together. My producer friend later called and gave props but obnoxiously conveyed he did not understand the scene. Well now you probably got it dude!! Say GLOBAL ROCK Mr. Producer. Hehehehehe. Tell your breddrens from Jamaica to Cali to stop isolating reggae muzik and free it from slavery man. LOL!

Big up to Sleepy Wonder (Thievery Corporation's #1 Mic stalker) who released his new album "INJUSTICE" on No Choice Records via Bug Distribution. Bigup to the original Shinehead. Major PROPS to Bad Brains. BigUPs to Elana Oumano. HR you are alwayz my BROTHER yo. Stand straight and roar like a lion man. Big thanks to Ed Robinson and all who contributed. And nuff respect to trailblazers like the Ramones who basically played Beach Boys style muzik with an edge. And nuff bigUPs and RESPECT to Johnny Cash who was actually the first **Punk artist. LOL! Thanks to Billboard Magazine for acknowledging Global Rock is a "...crossbreed..." in it's 1999 or 2000, year-end issue. Shoutz to Ronkat Spearman (P-Funk Allstar), Dennis Alcapone, Weapons Of Mass Persuasion (WOMP), Tinga Stewart, Lutan Fyah, Angry Mike (the Hardcore Chef)...

Peep these Global Rock related links: **

CNET TV dubbed Live Aid Concert "New Global Rock Concert"

.

**

BMI NEWS: BMI featured "GLobal Rock Scene" at Lollapalooza Concert in Chicago

.

**

STARNEWS headline press in Willimington, NC. Articles like these in hordes of newspapers online and hardcopies

D.I.A Records recordings are on iTunes, AmazonMP3 and EMusic plus other online stores.




SR (aka STREET RAGZ) ESOTERIC
HEART! Street Ragz Garments (SR): SR Got You Covered In All Conditions
Street Ragz (SR) Charcoal Black Beanie Knit Cap with white SR logo' Cost US$41.99. Free shipping.



Below image: Claude " Big Stone" Sinclair (l); Maxine "Isis" Stowe (r). Salutes!

Street Ragz (SR) Beanies. SR Got You Covered In All Conditions. HEART!